2023.05
Wah Lee announced newly elected Chairman Gary Chang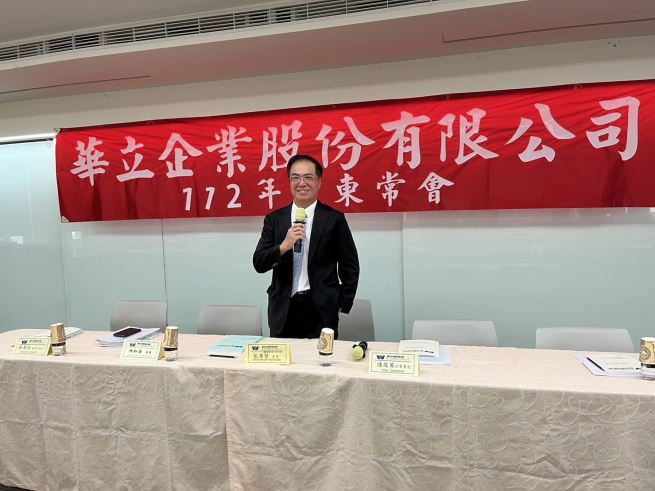 Since he assumed the position of CEO & President of Wah Lee Industrial Corp. (3010.TT) in 2016, Gary Chang has been aggressively transforming the company into innovation and growth as the main focuses. The Company has been developing new businesses and new geography. The consolidated sales have been continuously achieving new highs during the six years and earnings for the past two years have exceeded the share capital.
Wah Lee held the AGM today and elected a group of new Board Directors. The new Board members unanimously elected Mr. Gary Chang as the Chairman of the Board. During the six years as CEO of the company, Gary has almost doubled the consolidated sales from NT$39.5 billion to NT$73.6 billion. In the recently published CommonWealth magazine, Wah Lee was ranked 32nd this year from 39th in year 2016 in the service industry. Gary's performance was deeply recognized and trusted by the Board members, therefore he was unanimously elected as the new Chairman.
Mr. Gary Chang graduated from departments of Electronic and Biomedical Engineering of USC and was solidly trained by the MBA program. He started his early career in Wah Lee's overseas subsidiaries since 1989, practically operated business development and entrepreneurship and returned to Taiwan to completely lead various BUs and Strategic Planning Dept. His global views and strategic thinking mindsets have been highly recognized. After all these foreign and domestic trainings and comprehensive experiences in various BUs, Gary was promoted to Executive VP and subsequently CEO of the company in year 2016.
During his tenure with the Company, Gary started OptoElectronics BU and Green Energy BU and laid out the cornerstones for Wah Lee's success in the FPD and Solar industries. Take FPD industry as an example, Wah Lee's sales in the FPD industry has doubled during the six years with cumulative growth rate of 229% and reached the sales of NT$20.3 billion in 2022. PCB industry sales also doubled from NT$3.5 billion to NT$7 billion. Semiconductor sector sales has grown from NT$9.5 billion to NT$18.6 billion. ICT industry sales also grew from NT$14 billion to NT$21.7 billion. Green Energy BU has established 54MW of solar power stations and has paved the way for future carbon rights and alternative energy. Another promising business is the biomedical dept. which will harvest the great healthcare business opportunities.
Chairman Chang also lead the team in developing international markets. In addition to the China market, he also deployed and expanded the sales offices in Thailand, Malaysia, Singapore, Philippines, Vietnam, and Indonesia. India, EU, US and Japan markets are also explored in this year to grasp the business opportunities brought by the geopolitical impacts. Chairman Chang spun off the biggest sales and admin expense department which is the logistics and transportation and set up Tranceed Logistics in year 2012. The Company is investing in a southern Taiwan logistics center to secure the expanding demands in transportation, filling, and storage. Tranceed has created over NT$600 million of sales in Taiwan and China and will follow customers' development to ASEAN, US, and Japan markets.
Chairman Gary Chang is also enthusiastic about social welfare. He decided to sponsor a "Wah Lee Grand Prize for Innovation Materials". It not only aroused the enthusiasm of Taiwan's higher education in innovative materials but also injected fresh ideas into the material industries. Chairman Chang also devoted to a children's shelter and donated a rehabilitation center which brought more goodness to every corners of the society.
Under the leadership of Chairman Chang, Wah Lee will continue to expand its positions in HPC (High Performance Computing), 5G communication, data center, AIOT, biomedical, and EVs. Meanwhile, it will strengthen its international operations and march toward the goal of integrated technology leader in the global distribution business, growing together with suppliers and customers to create sustainable values and become a better ESG enterprise.